2023.05.17
Miyoshi City
Culture
Sightseeing
Mitsugonji's Fire Festival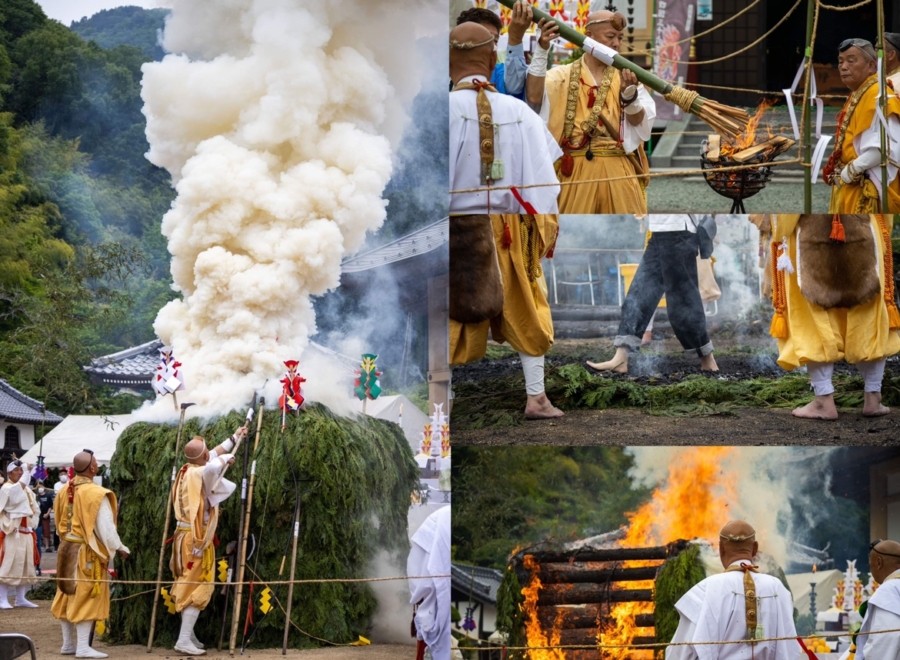 Mitsugonji Temple's Fire Festival is scheduled to be held this year on May 21st at 1 pm (registration for writing prayers begins at 11:30).
These Buddhist fire rituals are a fascinating sight: during the main ritual, a huge wooden frame is draped in cedar branches and set aflame, creating massive plumes of smoke as the flames devour the leaves and blacken the wood. Once the smoke calms, the monks continue to chant and toss the wooden planks of the attendees' prayers and wishes into the flames. The fire is believed to purify negative energies and help the wishes come to fruition.
There are many additional elements to the ceremony, such as shooting an arrow near the audience, which provides luck to whoever picks it up. After the fire dies down, the monks gather the ashes and pound them down into a pathway of embers that people can cross, holding paper charms and praying as they do.
~
May 2023 | Ikeda, Miyoshi, Tokushima
徳島県三好市池田町