2023.07.24
Oboke Gorge & Iya (Miyoshi City) Area
Forest Adventure Iya (Online Reservation Available)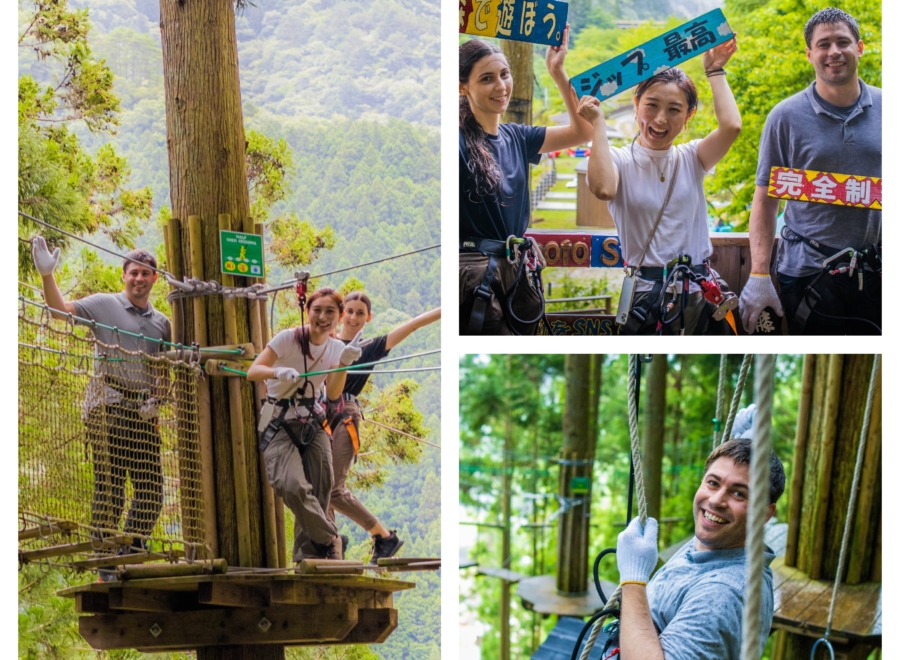 Escape into Iya this summer with Forest Adventure Iya's Adventure Course, offering five unique courses that take you swinging through a forest of cedars, to the two thrilling ziplines at the end!
To reserve online (English):
Ahh, summer. While temperatures continue rising to scathing levels here in Ikeda, we escaped deep into the mountains, following the winding Yoshinogawa River to where it meets the Iya River to experience Forest Adventure Iya! It was my first time visiting, but I've wanted to for a long while. If you've heard about ziplining in Iya Valley, this is the place! While you can do an only-zipline course as well, today we decided to go for the 5-course full adventure set. To make things more exciting. 
This course might look imposing, but rest assured, you're secured to a harness and wires the whole time! Each course offers freedom to choose, for beginners or those who want a challenge--you can select easy or hard routes as you navigate each section, and if one of them looks too intimidating, feel free to skip it and head onto the next!
Each course tests your balance as you navigate over platforms and through ropes, but even a beginner like me got through it no problem! The toughest part for me was holding onto the net and climbing sideways… which you can skip if you're not confident! 

Every course also offers a bit of ziplining--starting low and progressively higher, with a mighty swing into a net in course 3, and of course, the lengthy and thrilling zipline over the Iya River in course 5! The zipline hovers 50 meters over the river, and it's said to be one of the best in Japan!
~
July 2023 | Miyoshi, Tokushima
徳島県三好市